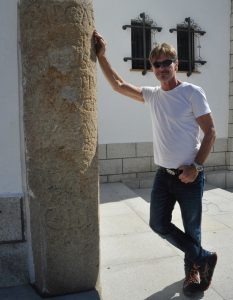 Manfred Gerhard Schmidt is a classicist and epigrapher, who retired from his position as the director of the Research Center 'Corpus Inscriptionum Latinarum' at the Berlin Brandenburg Academy in November 2017. But he is still burning for the study of the ancient inscriptions and what they have to tell us about the life and living of the Romans. Through his blog 'Custos Corporis' he would like to share his fascination for ancient monuments,  inscriptions and the literary tradition with all enthusiastic fans of antiquity.
Positions and memberships
2008–2017 Principal Investigator with the Berlin Cluster of Excellence 'Topoi'.
Member of the Advisory board of 'Exemplaria classica. Journal of Classical Philology' since 2005.
Member of the Consejo Asesor of 'Sylloge Epigraphica Barcinonensis' since 2008.
Member of the Comitato scientifico of 'Epigraphica. Periodico internazionale di Epigrafia' since 2018.
Teaching
Since 1985 in Latin Epigraphy, Ancient History (Rome) and Classical Philology at the universities of Tübingen, München, Passau, Heidelberg, Humboldt-University Berlin (since Summer 1999–).
Visiting Professor at the University of California – Berkeley, Classical Department (Fall 2004).